To my beloved brothers and sisters,
On the day of the vicious war against our people, we read in the Torah how Moshe was shown the holy land of Israel. The commentator Rashi taught that Moshe wasn't only shown the land, but everything that will happen in the land.
Our hearts ache for our brethren in the Holy Land, and we pray for a miracle, healing, and victories. This is a defining moment in the history of the Jewish people and the Jewish land.
Let us not relegate this moment to a mere memory of where we WERE when we heard the news.
Let this be the moment we said what we DID when we heard the news.
This is the time for action. And here are a few suggestions:
1. Mitzvah4Israel
Do something holy in memory and in merit of Israel. Doing the Mitzvah on a regular or even occasional basis brings light to the darkness we now see.
Mitzvahs in the realm of Torah, prayer and charity are all good.
Torah - study on Chabad.org
Prayer - recite some Psalms (Tehillim)
Charity - Israel's poor or Chabad's Terror Victims Project
2. Show support
All children are encouraged to join a prayer gathering for Israel today - Monday, 4:00-4:30 PM at The Shul - 2443 E 4th Street. This brief program is specially designed for children.
Adults can attend the "Solidarity Gathering for Israel" today, 6:30 PM, at the Tucson JCC, 3800 E River Rd.
Every small act holds significance, especially when we declare to the Almighty that it is in merit of our brothers and sisters in Israel, and indeed, the entire world.
Allow me to conclude with a poignant reflection: I once visited an elderly Holocaust survivor in his home. He gestured towards the TV and remarked, "If the world had this back then, we wouldn't have had a holocaust." Unfortunately, in today's reality, we see that isn't true. As we remain in exile, let us beseech the Almighty to bring an end to this swiftly. 
With blessings and hope,
Rabbi Yossie Shemtov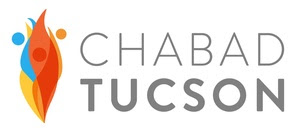 Chabad Tucson • The Jewish outreach and education network
2443 E 4th Street, Tucson, AZ 85719 • [email protected] • ChabadTucson.com