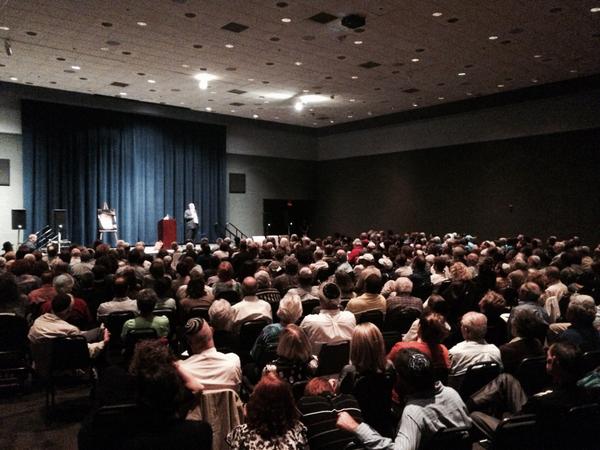 On Monday night, over 400 Tucsonans gathered to honor the life of the late Rabbi Menachem M. Schneerson, known simply as the "Rebbe," at the Jewish Community Center.

Rabbi Joseph Telushkin, who researched the life of the Rebbe for five years, spoke at the event, co-organized by the JCC, Chabad Tucson and the Jewish Community Foundation of Southern Arizona.

His book, "Rebbe: The Life and Teachings of Menachem M. Schneerson, the Most Influential Rabbi in Modern History," was published by HarperCollins and reached the New York Times bestseller list.

KGUN9-TV news anchor Stella Inger emceed the evening and shared her personal story how the Rebbe's followers helped her family immigrate from the former Soviet Union.

Welcoming the crowd was Todd Rockoff, CEO of the JCC. Rabbi Yehuda Ceitlin, Outreach Director of Chabad Tucson, sounded the shofar and introduced the guest speaker.

The Rebbe made it his goal to reach every Jewish community with his message of human potential and unconditional love to people of all faiths, Rabbi Telushkin said.

"I'm convinced he started this in the aftermath of the Holocaust," Telushkin said about the Rebbe's worldwide education and outreach network that numbers 3,600 institutions in 49 out of the 50 U.S. states and in 80 countries.

The Rebbe's work is recognized by the annual Education and Sharing Day USA being proclaimed on his birthday by all sitting U.S. presidents since Jimmy Carter. He was also awarded the Congressional Gold Medal.

Tucson Mayor Jonathan Rothschild said the birthday will be celebrated locally as well, presenting a proclamation to Chabad Tucson's Rabbi Yossie and Chanie Shemtov and Rabbi Yehuda and Feigie Ceitlin, Chabad on River's Rabbi Rami and Chani Bigelman, Chabad at University of Arizona's Rabbi Yossi and Naomi Winner and Chabad of Oro Valley's Rabbi Ephraim and Mushkie Zimmerman.

A photo exhibit of the life of the Rebbe and a video titled "Marching Orders" was presented by Jewish Educational Media (JEM).
An evening with Rabbi Joseph Telushkin in Tucson (KGUN9) Rabbi Joseph Telushkin honors the life of the Rebbe (KGUN9)
To purchase REBBE autographed by the author, email: [email protected]